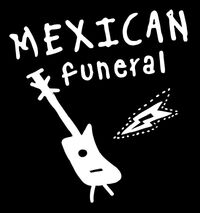 Mexican Funeral is a band in Dirk Gently's Holistic Detective Agency.
The Mexican Funeral was a punk band. The band members were Todd Brotzman, Kidder, Vic, and Ross.[1] Todd was lead singer and played guitar.
They were pretty famous in the Seattle mid-2000 alt scene.[2] They also went on tour and played in smaller rural towns.[3]
Todd was with the band at least between the mid-2000s[2] and to ~2012[4]. Todd mentions ~2010 ("must be six years ago now") as the last time he slept in a car while he was with his band.[5]
Around ~2012 ("four years ago"[4]), Todd secretly sold the band's equipment, worth $4,000[4], but told his band mates as well as officially reported it as stolen to the police. The band broke up subsequently.[5]

Years later, Todd had a few "Mexican Funeral" shirts left, one of which he gifted to Dirk Gently at the end of the Spring case.[6]
Todd had another one with him when he and Farah were fugitives afterwards; it was in a bag in their room at the Cardenas' Family Motor Inn in Bergsberg, where it was seen by Amanda Brotzman.[7]
Behind the scenes
Edit
There is a Mexican Funeral shirt stencil available on the BBCA blog.[8]
Appearances
Edit
References
Edit