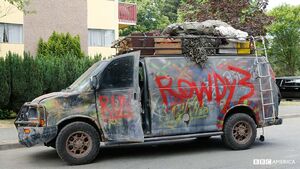 The Rowdy 3 van is a vehicle in Dirk Gently's Holistic Detective Agency.
It is a van used and lived in by the four the Rowdy 3: Martin, Gripps, Cross, and Vogel. It is black, beat-up, and heavily spray-painted, with "Rowdy 3" sprayed on in large red letters on the sides.
History
[
]
During all of Season 1, the Rowdy 3 lived in the van. When they were captured by Blackwing, their van was seized too.
In Season 2, Amanda Brotzman and Vogel drove a car which they had spraypainted with a large red "3" on the hood. When Mr. Priest went out on his mission to capture Vogel and Amanda, he took the original van with him and used it as bait in a trap to lure them out by making Vogel believe they had found the other Rowdy 3.[1]
In Wendimoor, the Rowdy 3 picked up a Kellum Mining Corporation truck, decorated it after the van's fashion, and used it in the rescue of Amanda and Todd Brotzman from their execution by the Dengdamors.[2]
At the end of the case, Francis Cardenas gave the original van back to them when he sent the group back to their world.[3]
Behind the scenes
[
]
Appearances
[
]
Rowdy 3 car:
Rowdy 3 truck:
Notes
[
]
References
[
]